Miami Strippers
Call (786)-343-5737 or (954)-556-5700
Miami is rocking baby Miami jams especially with the hottest Miami Strippers around so give us a call (786)-343-5737 for the premier and first strippers in Miami company which all started in South Florida with Male stripper Sean Michael's winner of the USA strip off twice and PLAYGIRL sexiest man alive winner! Enjoy one of the finest Miami male strippers or Miami female exotic dancers around, you can easily reserve your Miami stripper online or with our fantastic party planners. #1 stripper shows rated by Deco drive because our strippers are sexy Miami hot! A top destination to travel to for a bachelorette or bachelor party. Whether you need a hot white, latino, latina, or black stripper for a bachelorette party, bachelor party, birthday party, divorce celebration, poker event, yacht party, basketball cheerleader wait-staff serving you, a male revue, prank surprise or just a the guys or girls night out. You can have your very own private party Miami Stripper. What are you waiting for, make a reservation now and we will come out to show you Miami is rockin baby Miami jams! Enjoy a great boat show in Miami with our connection with some boat captains in serving your event. Party planners are here to reserve an experienced well taught stripper for your event, just plan it with www.hotpartystripper.com ! A female stripper or male dancer dressed as a party guest at your birthday venue. Bring the ultimate guaranteed fun experience to your event.
Bring Our Beautiful Playboy Bunnies to You!
Ladies? Bring Our Sean Michael's Certified Male Dancers Out To You !
We Did Prank For Liv Nightclub Owner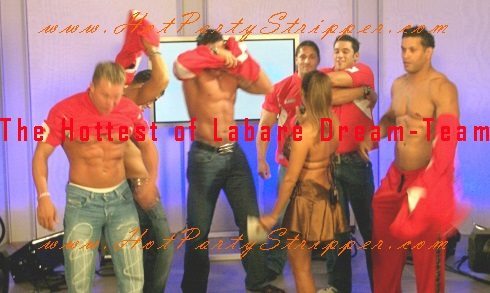 Us Male Dancers Live On Deco Drive
* Miami Male Revue * Bachelorette Party Ideas * Bachelor Party Ideas Miami *
Miami
Dade County
Kendall
Sunset
Pinecrest
Hialeah
Coral Gables
Virginia Key
Star Island
Fisher Island
Brickell
Doral
Westchester
Key Biscayne
Miami Gardens
Washington Park
Hialeah Gardens
Carol City
Opa-Locka
North Miami Beach
North Miami
Sunny Isles
Aventura
Golden beach
Haulover Beach
Ives States
Bal Harbor
Coconut Grove
Miami Shores
Liberty City
Little Havana
Little Haiti
Palmetto Bay
Homestead
Florida City
Key West
Key Largo
Downtown Miami
Miami Beach
We have Miami Male Strippers & Miami Female Strippers!
Birthdays, Bachelorette and Bachelor Parties in Miami
Dade county its time to raise up after hours and any hour 24 hours a day 7 days a week we are ready to perform for you! Beach party or night party you have come to the right spot. Every future bride or groom needs to celebrate their last single night in a memorable way before saying I do, and bachelor and bachelorette parties in Miami can be unforgettable if you plan the party with some sexy entertainers. Miami Florida is known for its beautiful beaches, people, and some of the most amazing nights out via nightclubs, so obviously it is the top choice for hundreds of thousands of couples to throw their bachelor and bachelorette parties before walking down the aisle. No other place in the world compares to the crazy fun Miami atmosphere and the amount of places one can go out to.
Below Pic: Sean Michaels , Rico, Ruby, Julian, Ricky & Rafael Live on Deco Drive
Miami Male Strippers
For women who are looking to plan a fun night out and enjoy their last night before settling down, Miami has many venues that can appeal to the ladies and create a night that will not be forgotten. The Gay8 festival is happening this weekend at southwest 8 street and 15 avenue in the heart of little Havana featuring  huge music and dance entertainment for everyone to enjoy especially bachelorette parties. Its a great option for girls to spend some time during a bachelorette or birthday party and also guys to go out and enjoy the all the great drinks with many beautiful women that will be around. Don't just sit on the beach and hope for a fun night, or roam around different bars trying to find a fun place. Rather, you can rent out a club or other venue, which will allow for a better night. To add some excitement to the party, Miami exotic dancers can be ordered, and they are guaranteed to add some fire to the party. Miami male strippers are a great way to surprise the unsuspecting bride-to-be, and the guests equally enjoy them. What Miami bachelorette doesn't love a hot party performer to perform at her event? Well Miami is full of fun times and although it can be a very difficult place to settle down , people love to have fun and get married.
Miami Bachelor Party
While the bachelorette is at her party with dancers, what is a bachelor to do? Well, he should have his own party, of course! Miami offers so many different venues that would be perfect locations for a hot venue, so it is important to look around and find a venue that best fits the crowd and gives the approval of throwing a exotic dancer event. Once a venue is booked, every Miami bachelor party is in need of a stripper. Miami Strippers make the party, and kick the party up a notch. Have some of our hot strippers go on your party bus or even we can set you up with a local South Florida party bus.
Miami, Florida is the sexiest and most unique place in the country, and nowhere else in the world compares to its seductiveness. The nightlife in Miami is unbeatable or even better for tourists and any special event you may be having in Miami Beach, and ranked number 1 in the United States for night club action entertainment, which makes for an unforgettable night for both bachelor and bachelorette parties. Couples who are about to get married deserve to have fun parties, and Miami is the obvious location to throw the best parties that have ever been seen. Adding Miami strippers to the mix kicks up the energy tremendously, and everyone leaves with a smile on their face.
Are you going through a divorce? Well celebrate a divorce party with a gorgeous female exotic dancer or male dancer. It is time to let loose and get out of your all time low feeling and have the best performers come out to cheer you up.
If you're looking for a Hot Party Stripper, then you've come to the right place. We've got the hottest Strippers in Miami! We have all ethnic backgrounds catering to South Florida events. Latin entertainers, stripper masculino, stripper feminino, stripper masculino miami, habla espanol tambien.
Testimonials www.hotpartystripper.com Reviews:
Ok, I told myself that there was no way I would ever have a stripper come to my bachelorette party when I got married. It just honestly didn't seem like something I would enjoy. But my request must not have been heard by my lovely maid of honor because she went ahead and hired 2 Miami male strippers anyway. I don't know if it's just because they were Miami strippers or if all strippers are this good, but the night ended up amazing. I can honestly say that it was one of the (unexpectedly) best nights of my life and I just wanted to take a moment to say thanks.
Yo Sean… last night was INSANE my man…seriously it was the craziest thing I've ever done and my boy LOVED IT…Summer and Zina were hotter than they were when I found them on the website…that's saying something man because some of these places really try to pull the wool over your eyes…but if anyone out there wants an amazing night just hit up Hotpartystripper.com …hands down the best strippers in the business… Ron J. – Hey Ron – it was my pleasure – Im all about having a good time and helping people have a great time as well.
Just wanted to send a quick email and tell you that everything went well with the party last night. A few of our guests showed up a couple of minutes late but Ronnie the Miami male stripper was very patient. so I just wanted to say thanks again. The next time I need Miami Strippers , I will defiantly look you guys again at hot strippers. Thanks
We had our Miami strippers on a party bus last night and it really took my sister's birthday party to the next level. You only turn 30 once, right? I don't know if you guys give your dancers nicknames but I know our Miami male strippers should have been called Thor… I'm sure you can figure out why. If you want to have an amazing night with Miami Strippers this site is the best there is. The only thing I need to do now is find out which of our friends have the nearest birthday so we can do it again!
I have used Hot Party Stripper to hire Miami Strippers for my private parties for a while now so I figured I would send in a review to let people know these guys are the best in the business. I have dealt with so many unprofessional sites that I almost gave up my own party business but I was lucky to find Sean Michaels on this site…all of the dancers (male or female) show up on time, they're professional, and all of the guests seem to love them. I would never use a different service for strippers for hire; highly recommended.
Hello Sean, I tried calling after the bachelorette party we had in Miami Lakes, but could not get you. I wanted to just tell you via email that Ruby the Miami male stripper was fantastic in every way. My girlfriends loved him and just wanted to let you know that you were correct, he is a great choice for a male stripper in Miami. Thanks
Miami is a beach town and here we like to party hard. My buddy Will is getting married in four days and being the best man I had to throw him a bachelor's party and it was a no brainer that we were going to have Miami strippers but I still wanted everyone to be surprised. I hired strippers Miami because I had seen them perform at a friend's birthday party and I was blown away by their performance, so I got in touch with my friend and got their contact details and asked them to suggest me unique ideas for the party and being the world-class professionals that they are, they came up with some fantastic ideas almost instantly and now I was spoiled for choice. Thanks
It was a night I would never want to forget and I guess I have already fallen in love with them and waiting for someone else to get married so we get to see them again. The way they conducted themselves amidst nearly two dozen wolves was superb. These strippers Miami rocked the party and I would recommend them to anyone looking for some good quality entertainment for any occasion, I am planning to throw myself a birthday party next month. The strippers in Miami are the best in the world and if you are willing to throw some money, they are going to show you a heavenly time. Thank you so much
We just came down from Canada to have our bachelorette party at the Fountain Bleu hotel in Miami Beach. I just have to say thanks for sending the Miami male stripper named Derek Fox to our party. He was blond and blue eyes with a great tan just like my girl fergy likes. We came down the elevator to let him up, but gosh he was so fine, when my girlfriends saw him they literally jumped all over him. We had a great time , I will recommend your service to all my friends. Thanks so much for your service
We had a 90 year old birthday party slash retirement party for a former police officer in North Miami Beach. We had the party in Hallandale at Brio's as the party crasher that ordered the Miami Midget Stripper named Little Romeo Captain Groove was absolutely fantastic. This truly made the party as everyone thought it was a great idea. Having a stripper in Miami was a great idea. Thanks, so much Sean for setting this up for our party and getting it approved with the manager at Brio's. Thanks