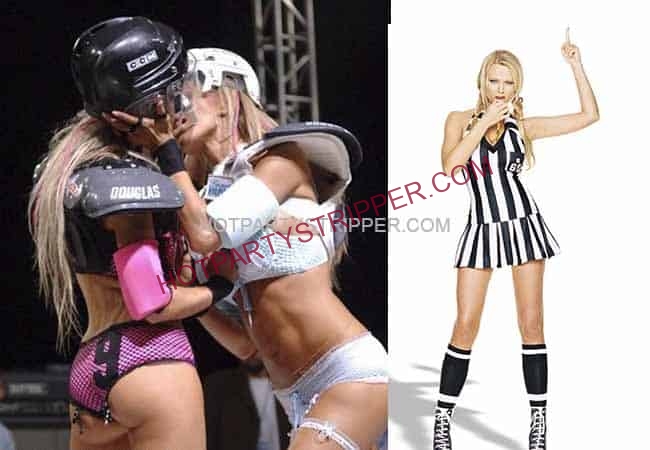 2022 Super Bowl parties starting the beginning of February, the winter is almost over, and it is time to celebrate your halftime show with hot party strippers serving you chicken wings, Pizza, and of course, lap dances. We are specialists in in-game day parties, but when it comes to the Super Bowl, Ballers packages are standard prices. Yes, that's right, the Ballers bachelor party package rings come with our gorgeous girls dressed up as cheerleaders with the best food in your house: their stunning bodies, their glutes and legs, and everything else. You have to make sure your TV record button is on because the halftime show might go a little longer, and you don't want a delay a game, do you?
There are no penalties on a halftime show, though, and what is better than having a chicken wing in your mouth and a gorgeous girl on your lap feeding you? Well, there is. It would be a second girl handing providing you nice cold brewski.
So you enjoy the game of football, and if you have your wives or girlfriends there, they can enjoy our gorgeous strippers as well. There's nothing to be jealous about. This is just good fun. Our girls can pick it up for you to deliver it. Our girls will be hyped-up running 4.3 40-yard dashes in your living room, with a tremendous vertical leap onto your lap. They can run a button hook pattern in slow moe if you like and ram you using unnecessary roughness of breasts to the face.
Visit Miami, Florida, on 2022 Super Bowl weekend to celebrate with your bachelor party or guys-only getaway. If it is the bachelor party, this is the best party of his life. Or it needs to be. Here in Miami, we have VIP services with local party buses, limousine services, luxurious yachts oh, and our sizzling gorgeous strippers. Have our bottle girls join you to serve you some of the best liquor from our local friend's liquor stores.
Super Bowl party in New York, New York, the Big Apple. 2022 is a new year, and it is time to celebrate. Enjoy just guys and girls' time together as couples watching the top sports game end the year. Couples can enjoy some of our hot girls-to-be cheerleaders serving you liquor, chicken wings, New York Pizza, and little lap dances for both the ladies and the gentlemen. If your choice is to go out, check out the 3 Monkeys Bar. This place is fantastic. You can also prove over to the Hamptons to celebrate, and one of the Airbnb on the ocean. But ultimately, New York loves football, and it's a great place to celebrate your bachelor party as well.
Super Bowl 2022 will be located in the Los Angeles area, so if you guys are going to do guys get away, or you're going to celebrate your bachelor party. You might as well order our beautiful girls for your weekend. Have our girls bring out some bottles and all of their bachelor party toys and enjoy the festivities.
Okay, Super Bowl 2022 in Tampa Bay, Florida, celebrate With your friends or for your bachelor party. Super Bowl weekend is a perfect time to do all guys getaway parties or celebrate bachelor parties. Go to Pete's Place in South Henderson Boulevard and several other places. Also, note that they have some of the best Yachts to rent in Florida, located all over Clearwater Beach.
Well, it's time to celebrate Super Bowl 2022 in New Jersey, Atlantic City. Go out with the guys, enjoy some good beer and football or celebrate your bachelor party here at Atlantic City at the Tropicana or Borgata Hotel.
Celebrate the 2022 Super Bowl in Dallas, Texas, and numerous places. Dallas, Texas, is known for its football and rodeos and beautiful cheerleaders. Well, if you're celebrating the guy's night out or a bachelor party, have our girls dress up as cheerleaders and show you a hot and sexy time. You can watch the game actually at the Dallas Cowboys Stadium AT&T Stadium. Another area to watch the game is the Dr. Pepper ballpark or check out Ali's Cats entertainment. Have our hot party girls come out and celebrate the ultimate Ballers package.
Celebrating the Super Bowl 2020 2 in Reno, Nevada would probably be best served at your home with friends or at an Airbnb for your bachelor party. You may even want to head over to Lake Tahoe, which is close by. But ultimately, Reno's weather is fantastic the majority of the year, and for locals here, you know what to do. For tourists from out of town coming in, you can gamble at the local casinos and enjoy the game there.
Super Bowl 2022 in Houston, Texas, for your bachelor party. Don't miss out on all of the local restaurants and nightclubs open for Super Bowl watching. Bring your buddies out for a fun time, enjoy the weather, and enjoy the game. Have our girls come out and celebrate in a party room at a sports bar with you.
Celebrate with your buddies. Come down to Fort Lauderdale, Florida. Celebrating a bachelor party or all guys vacation? Fort Lauderdale is a hotspot with sunshine, oh, great boating, and hot girls, especially from our exotic dancers line up. Now there are many places to celebrate and Broward County. Check out all the car shows on the same weekend as the Super Bowl. You can go to the Pembroke Gardens Mall, where they will have an awesome Saturday car show on Superbowl weekend. Check out Las Olas, his car showing the same weekend, just different times. Enjoy also going to Broward Lamborghini out west off I-75 and Griffin Road. All vehicles gather up at the Lamborghini and Porsche dealership and the Shell gas station right there on the corner with the owner's energy drinks. Liquid help is available at multiple places located in South Florida. If you are coming down to Fort Lauderdale and you happen to go into one of these stores and order a party from us, they will give you free beverages.
Celebrate the 2022 Super Bowl and the best weather in the country located in San Diego, California. Our hottest girls are located in San Diego. This shouldn't surprise you, fellows. Take a flight out to San Diego with your friends to watch the Super Bowl with a weekend, and I'm amazing girls that will spice up your party. Have our girls dress up as cheerleaders serving you good cold beers and providing you the best halftime show you can experience.
It is that time of year in the city where Rocky Balboa was born. That's right, Philadelphia celebrates by watching the Superbowl located and beautiful Pennsylvania by bringing your buddies out here and watching the game with our hot strippers.
Well, there's no more John Elway or Peyton Manning, but Denver Colorado loves football. Guys, come on out celebrate by watching the game. Have some of our beautiful girls devote their services to you with lap dances and serve you pizza and beer. Our girls are gorgeous. They love to party and put on a great show with all of their flexibility. You will not regret it we promise you that.
It is party time in Boston for the Super Bowl 2022. You guys still have Bill Belichick, but you don't have Tom Brady. New England Patriots have been great for so many years, and your fans are some of the best in the country. What adds a little flavor to your get-together as you're watching the game is having our hot girls come out for halftime, give you lap dances, feed you pizza, and serve you a beer. They can wait around to the end of the game and then put on an excellent 1-hour show showing you all their flexibility indulging and their beauty.
What can you guys do in Austin, Texas, for Super Bowl 2022? Oh, that's simple. You can have our bad girls come out of your halftime show and show you a live performance versus a virtual presentation. Our girls in Austin, Texas, our home-grown cowgirls ready to show you what the mama said them growing up. Our girls are absolutely gorgeous and highly seductive. They are pure exotic dancers prepared to offer you a live performance that you will never forget. Super Bowl 2022 is going to be unique and what would make it Unforgettable is having our Austin girls come out smelling so delicious to take care of you guys and put some big smiles on your face.
Salt Lake Utah Super Bowl 2020 to celebrate with our hot gorgeous country girls. We have some attractive cowgirls dressed up with Chaps in cowgirl hats, ready to show you what they can ride. Some of these girls even go by the name rode hard and put up wet. Guys, you're going to watch the game. Do it right, go bigger, go home. You don't want to fall asleep during the game so have our beautiful girls come out. Add half time to serve you beers feed you whatever food you have there, like chicken wings and hamburgers. Then after the game, that's when all the fun begins. Our girls will give you lap dances, put on an extremely seductive show, and treat you like the rodeo bull. so don't hesitate to indulge in life as life is a short smile from ear-to-ear order our Salt Lake City strippers today